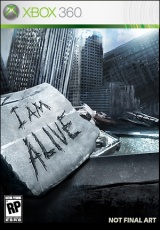 I Am Alive is an upcoming third-person and first person shooter being developed by
Ubisoft Shanghai
. It was originally being developed by Darkworks. The release date was delayed until Spring 2011. It will come out on Playstation 3, Xbox 360, PC, and Nintendo Wii.
You play as a man named Adam Collins, and it is set in Chicago, after a 10.3 Mw earthquake erupts, and the city is unable to be rescued by the army. Adam faces many enemies, and must try to stay hydrated, and find his ex-girlfriend. Citizens will try to take Adam down and take his stuff. His second objective, is to find a way off of Chicago. The game takes place over a 9 day period, so no free-roaming once the credits roll.
Gameplay
Edit
The player controls Adam in a first person perspective. The player can use various tactics to stay alive, including using an empty gun to threaten enemies, find ammo around the city and use actual live weapons, including pistols, machine guns, and grenades if found. The player can also take abandoned vehicles. Driving the vehicles will be in the traditional third-person view, and running or walking can be toggled between first and third person.
Walkthrough
Edit
At the start of the game you will find yourself trapped in a high building. For 3 days you will fight your way out.
The game was originally called "Alive".
The game has been in development since 2005.
There will be sequels.